Maritime-cyber threats are a growing concern as on-ship technology develop and become more intricately connected.  As shipping infrastructure is essential to modern society, transporting 90% of the world's essential goods, the level of awareness for these types of risks must be increased and the collaboration of academia, industry, and government is pivotal for creating far-reaching and long-lasting solutions to address the maritime-cyber threat.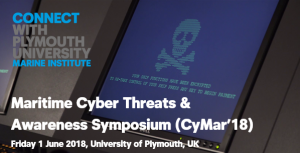 To do this, Prof Kevin Jones and the University of Plymouth invites you to the first national Maritime Cyber Threats and Awareness Symposium (CyMar) on June 1st 2018.  CyMar'18 is an invitation only event aimed at key decision makers and strategic thinkers within significant organisations within the industry and aims to bring together key players in maritime industry, research, and policy making within the maritime community to discuss aspects of today's maritime cyber threats, risks, and security, and how to improve the current state and the future.
Key topics are:
Increasing Global Awareness of Maritime Cyber Threats
Maritime-Cyber Attacks of Today and Tomorrow
Maritime-Cyber Defences of Today and Tomorrow
Lord Arbuthnot, Chair of the IAAC, will give an opening keynote.
In addition, attendees will have an opportunity to attend a panel discussion on future defence and prevention strategies, improved mariner training, and other topics.
To register an interest to attend this event, please book via the link below.
https://www.surveymonkey.co.uk/r/CyMar_18
(If you experience difficulties opening the hyperlink in Internet Explorer, please copy and paste the link into the browser search box in Google Chrome)
Travel to Plymouth information and the location of the conference venue, Roland Levinsky Building, can be found on the University of Plymouth website below.
https://www.plymouth.ac.uk/your-university/visit/our-campuses
For further information on the Maritime Cyber Threat Research Group and its current projects, please visit.
https://www.plymouth.ac.uk/research/maritime-cyber-threats-research-group
Events, Plymouth University, United Kingdom
Tel: +44 (0)1752 586005, Email: events@plymouth.ac.uk